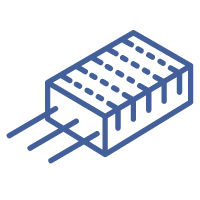 ESTHW50ADM
Part Number:

ESTHW50ADM
Manufacturer:
Ventron No:

7310602-ESTHW50ADM
Description:

ESTHW50ADM datasheet pdf and Multifunction product details from Carlo Gavazzi Inc. stock available at Ventron
Data Sheet:
Specifications
Description
FAQs
Shipping
Carlo Gavazzi Inc. ESTHW50ADM technical specifications, attributes, parameters and parts with similar specifications to Carlo Gavazzi Inc. ESTHW50ADM.
Factory Lead Time

8 Weeks

Operating Temperature

0°C~50°C TA

Part Status

Active

Moisture Sensitivity Level (MSL)

Not Applicable

Output Type

RS-485

Sensor Type

Humidity, Temperature
The three parts on the right have similar specifications to ESTHW50ADM.
Moisture Sensitivity Level (MSL)

View Compare
Popular Search Part Number
Related Keywords
Search Tags
Help you to save your cost and time.

Reliable package for your goods.

Fast Reliable Delivery to save time.

Quality premium after-sale service.